This post contains some affiliate links, which do not cost you anything, but if you use them it helps to defray the expense of running this site.
For convenience, I'll repeat the links at the bottom of the article.
Hi!
You know, most of us struggle with knowing when to use craft glue OR glaze OR Glossy Accents….then there's Mod Podge…what's a crafter to do?
There are various, valid reasons to use each one, but today I want to focus on one thing: a durable finish. You want to give your piece a little bit of shine, make it last in case it is sticking out of a journal OR it is at a much-handled spot on the page OR maybe it needs to bend upward a little for dimension.
Today I'm going to try to help you muddle through that mess. I took 3 butterflies — see why I said it might need to bend upward? The wings.
Anyway, it's from one of my Digital Journal Kits, The Charlotte. [find it here] You can use any digital OR regular cardstock if you want to join me/follow along. I printed them out on 90# card stock and applied 3 kinds of finish over the top. They were:
Glossy Accents
Elmer's Glue All
Fantastic Glaze & Glue
On the Elmer's glue one, I also sprinkled on some Martha Stewart Glitter called "Sugar Cube."
Here's a link to that.
Watch the video to see the results of my experiment.

I liked them all, and would use each one again. The Elmer's Glue butterfly finish proved to be the thinnest, and there are times when you'd want that flexibility in an embellishment. It still gives plenty of coverage, and the glitter held nicely in it — no glitter on your clothes and face!
The Fantastic Glaze & Glue  (not an affiliate link! ) is advertised as being made for glass jewelry. It had a distinct odor even though it says it is non-toxic and cleans up with water. I have pet birds, which are very susceptible to any chemical in the air, and the smell from this product had me worries. Yes I know it's supposed to be non-toxic, but the odor is…. odoriferous. Kinda sorry I bought the big bottle, but maybe it'll work for jewelry.
Glossy Accents [here if you use Amazon; here if you don't] was my third selection. I really like using GA. I like that the bottle's tip is extremely fine, so you don't waste any glaze or glop it out onto your project. It's easy to spread just using that tip, although you could use a toothpick for extra care in the coverage. And it dries fairly fast.
All in all, I liked the GA and Elmer's better than Fantastic G&G. If you want to really strengthen an embellishment and create a shiny finish with some depth, use the Glossy Accents. If you just want to pump it up 'some' and maybe add some shine and glitter, go with the Elmer's for a cost-saving measure.
You might wonder why I didn't use Mod Podge. The fact is….it wasn't on my desk! I grabbed the nearest 3 and churned out a quick video. We'll do that one another day.
Here are the product links again:
The Charlotte Digital Journaling kit is in my etsy store.
Glossy Accents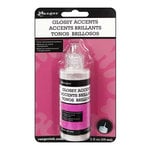 Martha Stewart Fine Glitter in Sugar Cube
Craft Fantastic Glaze & Glue (checkout their tutorials while you're there!)
Thanks for watching!